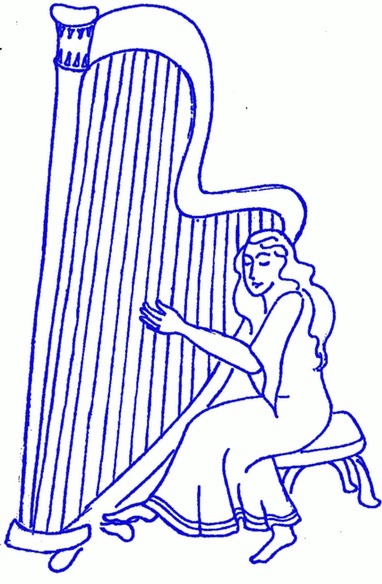 It all started with a dream… When I was very young, I dreamed I was a Fairie with beautiful butterfly wings, playing a Harp & Singing. I dreamed it often, and I always knew that I would play the Harp someday. I used to pretend I was the Singing Harp from Jack and the Beanstalk. 
I began playing the Piano at age 6, and I like to say that I'm a survivor of a strict classical piano childhood! 
I finally took up the Harp when I was 19. In those days, I had no idea that I would actually get to make a living doing this. I just wanted to play, so I practiced everyday. Dare to Dream!
Would you like to learn to play the Harp?
I offer lessons to students throughout the St. Louis area at my home in Maplewood. I have rental harps available in a variety of sizes for a reasonable rate.  I work with students of all ages, tailering lessons to the individual, and to their interests.  I work with Harpist of all levels, from beginner to advanced. Whether you have played music for years, or have absolutely no musical background, I would love to work with you. 
I also offer Harp lessons at University of Missouri St. Louis (UMSL),  and at Maryville University through their Music Therapy Program. 
In addition to harp lessons, I offer lessons in music theory, arranging, and improvisation on the Harp. And for those who don't live nearby, I offer lessons on Facetime or Skype. 
I also offer Piano lessons.
As a teacher, I feel that it is important for students to enjoy playing, and I make extra effort to create a safe and nurturing environment, where talents can unfold & the joy of musical expression can be experienced, at any level. 
My motto: They call it Playing Music because it's suppose to be fun!
Feel free to contact me if you are interested in lessons! 
I love my students. I love watching them grow! Below you'll find a few excerpts from thank you notes they have given to me over the years, along with notes from a few parents of students as well. 
"Over the years we've had our ups and downs, but you've stuck with me through them all. You have always had open arms, even when I didn't want to play the harp. I thank you for your unlimited support and performance opportunities. You have Shown me what the love of the harp looks like, and even let me experieioence it myself by letting me take the harp home over the summer and weekends. You have taught me  how to be persistent and a hard worker, and I plan to continue throughout my harp years. I will keep in touch and thank you for everything you've done for me." 
"Thank you for influencing my daughter's harp life. She intends to go to college to further her love of the harp. Keep doing what  you do, because you do touch lives. She says she wants to start her own studio."
"You are the best teacher I could ever imagine - laid back, easy going, and fun, but still incredibly knowledgable and talented. You are such an inspiration to me. Thanks for all you've done."
"Words cannot express our appreciation for the love and lessons you've give. You are an inspiration to all of us. On days that we would come for lessons tired or (every once in awhile) crabby, we would leave feeling refreshed and happy. Thank you, thank you, thank you!"
"Thank you for understanding last week that I needed a friend and a cup of tea much more than I needed a harp lesson at that time. I felt much better after my time with you. I'll call in a few days and set up a time to get together. Thank you for your friendship."
"Thank you so much for being such an amazing teacher for me these past 10 years! You're always so easy going, and even when I had my doubts about continuing the harp, you kept finding ways to make it all fun again. You're so talented, and I am so thankful to have had you teach me. I'm looking forward to wow-ing you with my college skills in a couple months!"