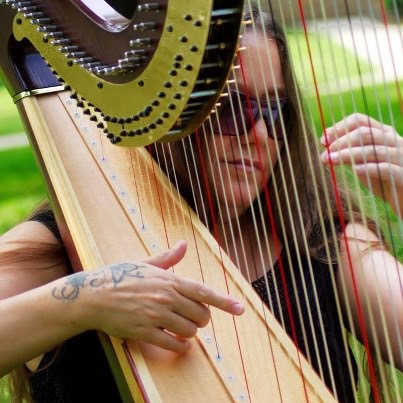 Hey Friends! 
As you can see, I play the Harp, & I'm grateful to say that this is how I make my living! I live in St. Louis, MO, performing & teaching both locally & beyond. 
I play all of the music that you would expect from a Harpist: classical, ethereal, & new agey styles, but I am best known for playing classic rock & jazz, & my original compositions, with influences of jazz, blues, rock, new age, & folk. 

Here is my first music video, which I recorded, edited, & uploaded myself, using an iPhone, a Macbook Pro, Garage Band, & iMovie. The Song is Journey to Serenity, from my CD Cynical Serenity.
I still have a lot to learn in the areas of video & audio production, but I've having a good time!
My Newly revised site contains info on all facets of my music. Feel free to explore, and if you need a Harpist, Harp or Piano lessons, have any questions, or just want to reach out & say Hi,  I hope to hear from you soon!
Please feel free to contact me at  terri@harpsinger.net
I designed this website myself, using Sandvox.
 It was last updated on 12/13/16